Coming up in today's newsletter:
Nifty Gateway Art Launch
1093 NFT Update
FanZONE Friday calls
Podcast highlights
Important Dates
---
🎨 Nifty Gateway Art Launch 🎨
Fanzo is thrilled to announce his first featured artists being published on Nifty Gateway via his storefront! First, introducing Ryan and Jeff, the duo behind B.R.S. Street Gallery.
Over the past 20 years, Ryan has painted, drawn, built, and sprayed art all over the great state of Michigan and around the United States. He thought as an artist he could give more to the world, which is why he quit his full-time gig to start his art studio.  Jeff, a long-time NFT collector, brought his extensive business acumen to the studio from his professional background of sales, real estate, and finance to combine with the world of art.  Together, bridging web2 to web3 has given Jeff and Ryan a blank canvas to build community, create the type of business they want for artists, and the opportunity to build upon all of their strengths in this space.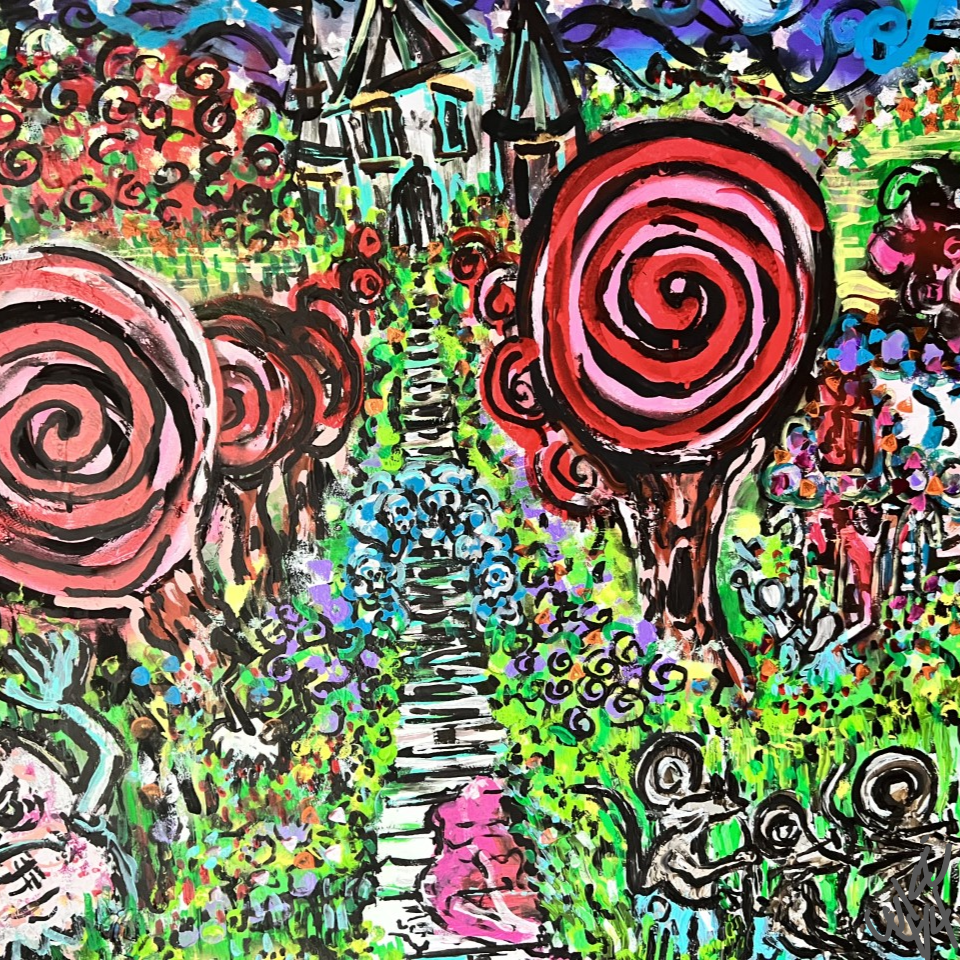 This collection is made up of funky and bright pictures that you don't find outside the NFT realm. The entire scope of the project unfolds the beauty of life.  Abstract images are creating by exaggerating the vibrant qualities of life.  The different statements show off the unorthodox style and treatment of color, bringing the funky style, the grit of the streets, and brightness to this collection.
The B.R.S. Street Gallery NFT art drop is going live Friday Jan 26th at noon EST on Nifty Gateway. For more info, check out the Nifty drop preview here, and the site for Ryan's art at Berkelyrosestudio.io!
Fanzo is looking to curate collections initially for limited-run, small collections, including AI art, photographers, and artists. We are now accepting applications for art collections! Interested in being published in Fanzo's storefront on Nifty Gateway? Apply here! Stay tuned for next week, where the next artist drop will be highlighted.
---
🤩 1093 NFT Update 🤩
Most of the 1093 NFTs have been migrated over from Rally to the Ethereum blockchain, and are in everyone's Eth wallets. (If you don't see yours, check your hidden folder!) There are a few remaining that still need to be migrated, but there is a new glitch with the contract causing unreasonable amounts of gas. The dev is working on a solution and we will let you know when the migration of the remaining NFTs takes place. Thanks for your patience! If you missed the chance to get in the queue to migrate over your 1093 NFT, please fill out this form! This is required to get the info we need to move your NFT to Eth.
https://docs.google.com/forms/d/e/1FAIpQLSd0QQFf2i8qSnnrzlm07Oyq-aoLpW4J_vb-JIvZDGcFkAB0iA/viewform
---
🎙 Podcast Highlights 🎙
If you missed some of the recent episodes from Season 2, here are a few highlights!
Popular as always, Violetta Zironi joined Fanzo to talk about taking a music career into Web3, and gave us a glimpse of her upcoming project Gypsy Hearts.
Ever wonder what NFT marketplace might be best to launch your AI NFT Art? Check out this episode where Fanzo guides you through the preparation needed before you choose a marketplace for launch, then goes into depth into Known Origin, Nifty Gateway, Foundation, Manifold, and others.
---
💬 Fanzone Friday Calls 💬
To join in on Fanzo's friday calls, Fridays at 11am EST:
Hold one of the following NFTs in your Eth wallet: AI365, SuperFanz, Founders Pass, or the Mint365 Time Capsule Collection
Make sure the wallet that holds your NFT is connected in the "Account Settings" of paragraph.xyz
Wait for the gated announcement to be sent regularly containing the zoom link. The link will also be posted in the #Founders channel and the #SuperFanz channel in the discord.
Log in and enjoy 🔥


---

✈️ Where's Fanzo? ✈️

Interested in attending upcoming events and hear Fanzo speak? Here are some places you'll find him this spring:

Social Media Marketing World, San Diego, March 13-15, 2023
NFTNYC April 12-14, 2023
Creator Economy Expo (CEX), Cleveland, May 1-3, 2023 (Use promo code NFT100 for $100 off!)


---

📆 Upcoming dates 📆

Jan 24 ~ SuperPOWER hour @ 4pm EST ~ Nifty artist feature!

Jan 26 ~ Game night in the discord @ 9pm EST

Jan 27 ~ FanZONE Friday call @ 11am EST *

Jan 31 ~ SuperPOWER hour @ 4pm EST ~ Nifty artist feature!

Feb 3 ~ FanZONE Friday call @ 11am EST *

Feb 9 ~ Founders call @ 1pm EST *

(* Gated – see announcement above)

---